RESERVE YOUR EVENT NOW BELOW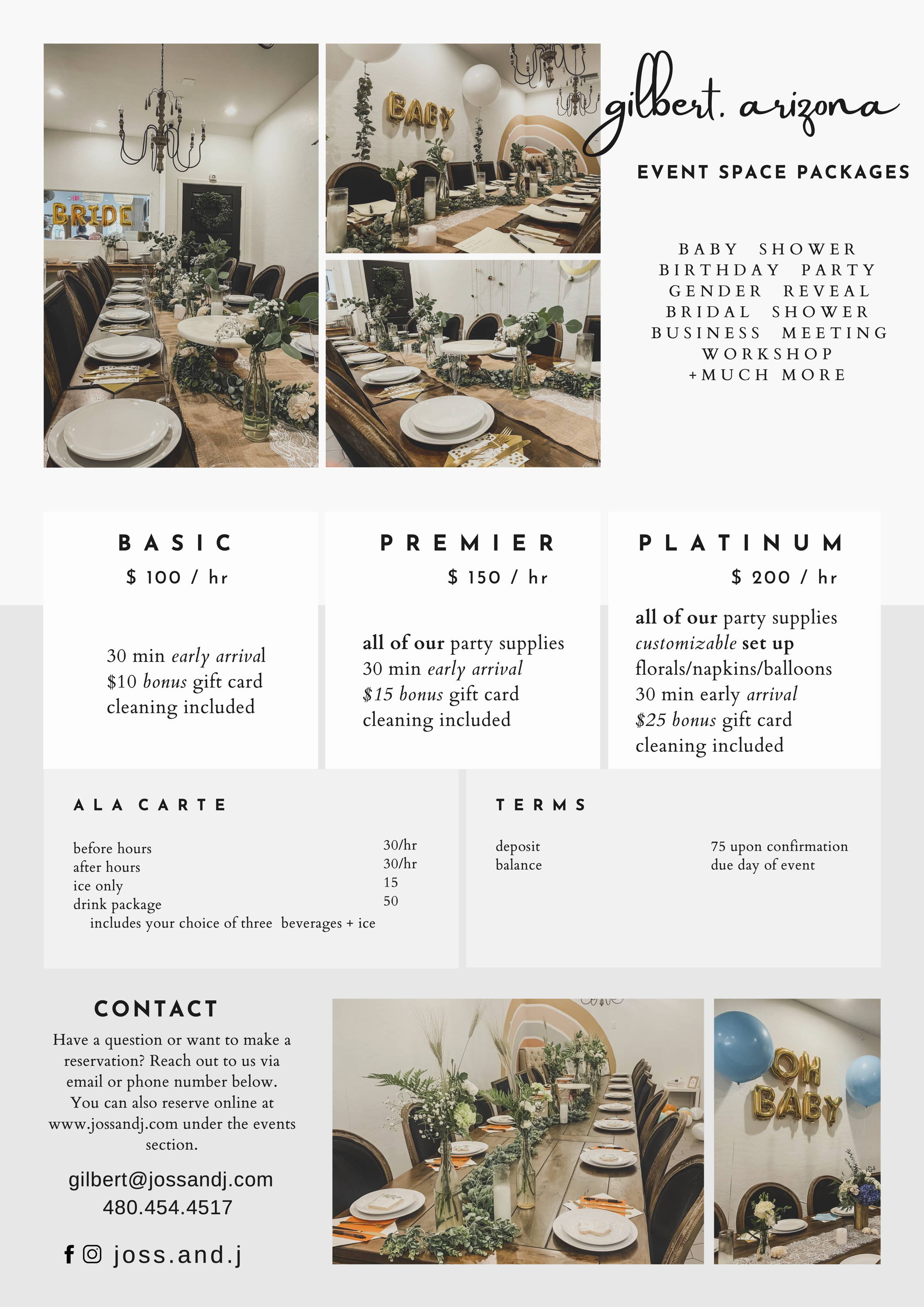 What are the differences between your packages?

The basic package is basically the room rental alone. We allow a 30-minute early arrival to set up the space however you feel fit. We also include the clean-up and offer a $10 bonus gift card with this package choice.
The premier package consists of the room rental, a 30-minute early arrival to set up, the clean-up for your event, and it also allows you to use any of our supplies that we have at Joss + J. We carry plates, platters, silverware, décor, etc. – you may also bring your own supplies. You are more than welcome to stop by and see what we have before any event. The Joss team does not assist or decorate the event space for you with this package. We simply let you use our items and clean up the space afterwards. This event package also includes a $15 bonus gift card.
The platinum package is by far the most popular package chosen. With this package you will receive a 30-minute early arrival to set up anything that you would like in addition to your event. The Joss team will decorate and set up the entire event space prior to the start of your party with this package. You will have the option of two floral arrangement colors (greenery is included, and specific flowers are subject to change), a choice of coordinating napkin color(s), and up to two colors of balloons (balloons are NOT helium filled, they are simply placed on the ground for extra décor – if you would like helium balloons there will be an additional charge). You will also receive a $25 bonus gift card and we will clean your event space up after the party.
THE JOSS + J TEAM CANNOT ASSIST IN ANY FOOD SETUP. OUR TEAM MEMBERS DO NOT HAVE FOOD HANDLING CERTIFICATIONS.
How do I reserve my date and time?
You have several options to reserve your date and time. You can click the link above and fill out the form.
Or you can contact our store front directly at gilbert@jossandj.com or 480.454.4517. We will make sure your date and time is available and then create an appointment and invoice for you. Your event will not be fully reserved until your deposit is received.
Are we able to adjust the packages at all?

 

You can not adjust the packages in any way.
How many people does your event space hold?
Our event space can comfortably seat up to 22 people with our chairs.
We have had guests bring in additional tables/chairs to fit around 25/26 guests at the most.
We unfortunately are unable to provide any food for events.
You are more than welcome to have your event catered, or you can bring in food that is store bought, homemade or take out.
We do have a drink package we can add on to ANY package. It costs $50 and includes three drinks of your choice + ice and plastic cups. The most common drink choices are water, lemonade, unsweet/sweet iced tea, orange juice, specific soft drink, etc. We purchase a specific amount to fill up our drink containers. We have only had a few events that have ran out of one of their drink choices, in this circumstance we will not be able to provide replacements. You can provide glassware, or other cup options if preferred.
Is alcohol allowed in the event space?
Yes! We unfortunately are unable to provide alcohol directly, but you are allowed to bring it in. We do ask that your party guests always stay responsible and respectful during your event, and absolutely NO underage drinking is permitted. 
Are we able to rent the entire store front?
We unfortunately do not rent the entire store front. We do however have the option for a before or after event.
The price is an additional $30/hour PLUS whichever package is chosen cost per hour. EX. Basic after hours would be $130/hour.
Do you have a refrigerator we can use?
Yes! We have a refrigerator/freezer and counter space you can utilize if needed.
How many tables are in the space?
We have the large table that you and your guests will sit at and a medium sized buffet table that is often used for extra food and/or gifts. We unfortunately do not have any extra tables. You are however more than welcome to bring in extra tables.
Are we allowed to shop during the party?
Yes of course! Party guests are more than welcome to walk around and shop during the party. We ask that no party guest stand and talk in front of racks and/or tables as it can interfere with other customers shopping. We also ask that NO FOOD OR DRINKS LEAVE THE EVENT SPACE AT ANY TIME. Any items that become damaged/stained from party guests, will be required to pay for the damaged/stained item(s).
How long should I reserve our event for?
The minimum event rental time is TWO HOURS. After the two hours mark, the price per hour is $100 no matter which package is chosen.
We typically recommend guests reserving for 2.5 hours. That gives enough time to eat, socialize and open gifts without the time constraint. We have had several events fit all of this into the two-hour mark and have had several events reserve for four hours. It just depends on what you prefer.
Am I able to change my package once reserved?
Yes! You are able to change your package and details up to two weeks before your event as long as it doesn't conflict with any surrounding events.
Are we able to come before the party to set up?
All parties are given a complimentary 30 minute early arrival time to set up. We do ask that party hosts refrain from arriving any sooner than their alloted time as they will be unable to enter the event space. Typically our Joss + J team will still be in the process of cleaning/setting up your event/room.
If you would like additional time to set up, please add in the alloted time into the event time frame. Remember any additonal time past the two hour mark is $50 per half hour AKA $100 per hour.
How long do we have after our party ends?
Parties are given 5 minutes after their end time to have all party belongings and people out of the space. Any time after that will be charged an additional amount, due to potential back-to-back events and interference with cleaning/setting up for the next party. The party guests are welcome to shop/spend time in the store front afterwards, if the event space is clear.
Are we allowed to extend our party time?
The answer to this will depend on if there is an event already reserved after. If there is an event reserved after you, we unfortunately will not be able to allow a time extension. If there is no event reserved afterwards, then it can potentially be a possibility if it aligns with our scheduled staff and availability. We always recommend reserving your time accordingly. If we do extend your time past the two hours, it is at a rate of $100/hour.
What supplies are provided for premier/platinum packages?
White Dishes (small + large plates, & bowls) + Gold Silverware (forks, spoons, & knives)
Small + Large Cake Stand + 2 White Cupcake Towers
3 Drink Dispensers + 2 Drink Pitchers
Food Platters (3 tiered stacked platter, rectangular platters, etc.) + 2 Salad Bowls
White Unscented Candles
Lazy Susan
Clear Plastic Drinking Cups
Glass Bottles Used to Hold Florals
Gold + Rose Gold "oh baby" Balloons + Gold "bride" Balloons
Clear "baby" Boxes to Hold Colored Balloons + Tan "baby" Boxes
What type of décor is provided for platinum parties?
The décor that we have is neutral and minimal. If there are specific themes that you wish for, we ask that you provide all specific décor. You must drop off all decorations at least three days before your event. We will provide coordinating colors of flowers, napkins, & balloons to match your party theme as closely as possible. The Joss + J team will set up all décor together on the date of the party. Any décor that is brought in the day of the event will not be able to be set up by our team.
When do we need to have our color choices for the platinum package?
Our Joss + J team will contact the host (call the number on file/email the email address on file) about two weeks before the event date to gather all color information for flowers, napkins & balloons.
If the event host is still unsure of the colors they want, they must have their decisions made no later than one week before the scheduled event date as we have to have enough time to find all supplies.
What is your cancellation policy?
We completely understand things come up. The deposit placed for the event space is unfortunately NON-REFUNDABLE.
You will have 6 MONTHS to use the deposit and reschedule for another event.